Millennium Development Goals Progress Report - 2003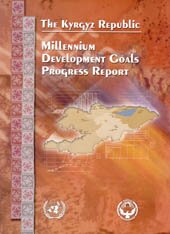 In September of 2000, representatives at the highest level from 191 countries, including Kyrgyzstan, adopted the Millennium Declaration. This declaration reflected the viewpoint of the international community on problems of peace, security, development, environment, human rights, and governance. It established development goals acute for all countries, these goals are known as the UN Millennium Development Goals (MDGs).
These goals establish specific, quantitatively defined targets for development,which should be attained by the human kind by 2015. To make these goals become reality, intensive and well-coordinated efforts are required on the parts of both developed and developing countries. The UN, World Bank, and all international organizations dealing with development problems, created the MDGs to be the basis for their activities.
The MDGs are fully in compliance with the objectives set up by the people of Kyrgyzstan and which are reflected in the Constitution of the country, CDF and NSPR. These fundamental documents formulate the vision of goals and objectives for the development of Kyrgyzstan in the first decade of the XXI century and establish the principles and mechanisms of their implementation. The CDF and NSPR emphasize three major components of the overall goal of Kyrgyzstan's development, which, in their essence, coincide with the MDGs:
Enhancement of effective and transparent governance;
Building a fair society, ensuring protection for every citizen and human development;
Ensuring sustainable economic growth.
For the MDG monitoring to ensure maximum coverage of problems, the UN initiated preparation of reports on the progress in attaining MDGs at a global level and for each UN member country separately. The present report is the first of such for Kyrgyzstan.
Click here to download Millennium Development Goals Progress Report - 2003 in PDF format.
---
MILLENNIUM DEVELOPMENT GOALS
Eradicate extreme poverty and hunger

Reduce by half the proportion of people living on less than a dollar a day
Reduce by half the proportion of people who suffer from hunger
Achieve universal primary education

Ensure that all boys and girls complete a full course of primary schooling
Promote gender equality and empower women

Eliminate gender disparity in primary and secondary education preferably by 2005, and at all levels by 2015
Reduce child mortality

Reduce by two thirds the mortality rate among children under five
Improve maternal health

Reduce by three quarters the maternal mortality ratio
Combat HIV/AIDS, malaria and other diseases

Halt and begin to reverse the spread of HIV/AIDS
Halt and begin to reverse the incidence of malaria and other major diseases
Ensure environmental sustainability

Integrate the principles of sustainable development into country policies and programmes; reverse loss of environmental resources
Reduce by half the proportion of people without sustainable access to safe drinking water
Achieve significant improvement in lives of at least 100 million slum dwellers, by 2020
For global backgrounds documents and progress reports click here.