# 231
August 27, 2004
In this issue:
---
UNITED NATIONS DEVELOPMENT PROGRAMME (UNDP)
Seminar "MEN'S ROLE IN ACHIEVING GENDER EQUALITY"
Summer school of young peacemakers
Medicine and Legislation in fight with HIV/AIDS
---
UNITED NATIONS DEVELOPMENT PROGRAMME (UNDP)
Seminar "MEN'S ROLE IN ACHIEVING GENDER EQUALITY"
13 August 2004 as a part of SIDA/UNDP project "Promotion of gender equality in politics" in Osh city there was held a seminar "Men's role in achieving gender equality" for 28 participants, students and post-graduate students of Osh and Jalalabat Universities.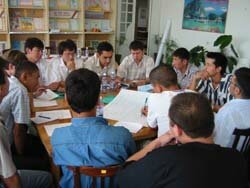 The last years have witnessed the beginning of a clear collective consciousness about the urgent need for the active participation of men in achieving gender equity. Assigning a special attention to men's participation in equality and underlining the responsibility men have as community and national leaders, members of the family, the workforce and the community in insuring respect and promotion for women in 2004 UNDP and SIDA launched the component "Gender and Men" in the joint project "Promotion of gender equality in politics". The component includes education of men in gender issues and attempts to organize them in networks that aim at contesting traditional masculinity, which is in the root of women's discrimination.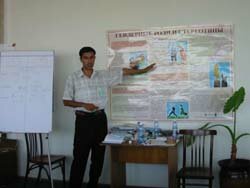 The seminar "Men in Gender mainstreaming" was based on the by UNDP newly developed Manual on gender education and integrated the different theoretical approaches and a practical perspective which intended to make the ways visible traditional masculinity is built up and how it constitutes a key obstacle for attaining gender equity in Kyrgyzstan. The men – trainers, previously trained within the project, discussed with the participants the problems of gender stereotypes, men's and women's roles in the society, discriminative traditions and customs and human rights and made practical exercises on analysis of tendencies through the gender disaggregated statistics and local newspapers.
At the end one of the participants said: "Obviously, men may also benefit in different ways from gender mainstreaming: an increased understanding of our entitlements and obligations, increased skills to negotiate rather than to impose decisions on women".
The men's pro-equity involvement approach constitutes a thoroughly new perspective implying varied aspects which benefit society in general and women and men in particular.
For more information, please contact Ms. Anastasia Toropova, UNDP Programmes Gender Coordinator. Tel. (996 312) 66-38-85. Email:
«Summer school of young peacemakers»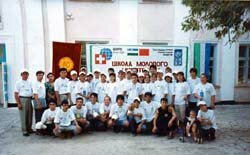 Kasansay (Uzbekistan), August 10-15, 2004 –School of tolerance for youth entitled «Summer school of young peacemakers" was organized in Kasansay city within the framework of joint project "Support of joint community initiatives for cross-border problem solution between Namangan Province, Uzbekistan and Jalalabad Province, Kyrgyzstan.
Summer school brought together 40 young people from cross-border districts – Alabuka, Aksy, Nooken (Kyrgyzstan) and Yangikurgan, Kasansay, Uchkurgan (Uzbekistan).
The main objective of the camp was to strengthen friendship and understanding between youth of cross-border communities in Kyrgyzstan and Uzbekistan, tolerance up bringing as well as preparation of young peacemakers to address cross-border problems.
The main peculiarity of this school is that it comprised both education and entertainment programmes. Moreover, it gave young people directions how to identify and develop their capabilities as well as how to utilize them practically.
During 5 days trainers and camp initiators worked on formation of new people- peacemakers, through trainings on tolerance culture and understanding, sport games strengthening leadership potential. Camp participants obtained skills of a good listening, conflict transformation, negotiation, mediation and team building. Furthermore, they learned who is a peacemaker, qualities of a good peacemaker, knowledge and skills of a peacemaker to resolve conflict situations and establish friendly relationships between peoples.
Camp life starts at 7.30 when all the participants lined up for morning exercises to receive "sprightliness charge" for the whole day. After the breakfast at 9 o'clock young people worked in two workshops first is "Tolerance is Bridge to Peace!" and second is "Fiat Conflict!". Every day participants together with trainers studied in theory the issues of conflict, diversity of conflicts, conflict transformation tools, why conflict is not bad thing, the qualities and skills of a good peacemakers etc.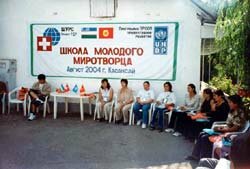 Moreover, leadership school was organized to develop students' capabilities to practically utilize knowledge obtained. Future peacemakers learned the skills of leadership and working in team. Important to mention that during short period of time close friendly relations and mutual understanding were established between youth of both countries. Together they created team work conditions, together tried to find solutions for the tasks prepared by trainers. The youth enjoyed camp life where every participant tried to express himself, assist each other and work in team. During this period the territory of the camp was filled by an atmosphere of joy, peace and friendship. The participants did not feel ethnic differences, and there was no language barrier though speaking in different languages everyone touched upon same problems.
Looking at the participants one can say for sure the future of both states is in reliable hands. Hardships existing on borders, problems with resources and political systems cannot destroy the friendship established for centuries. Two neighboring peoples will not partition off the border lines but will strengthen confidence and mutual understanding between each other. Thus school of tolerance became the bridge of friendship, mutual understanding and close collaboration between youth of cross-border districts. Moreover one more step was done to reduce interethnic and inter-nation tension in these areas.
For more information, please contact Abdiraim Jorokulov, Programme Manager at (3222) 55713 or 57837 or checkout our official website www.pdp.undp.kg
Medicine and Legislation in fight with HIV/AIDS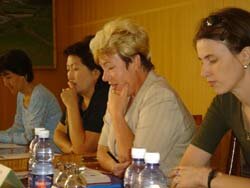 The seminar "Legal Aspects of HIV/AIDS" took place in Tokmok on August 12, 2004, under the support of the UNDP HIV/AIDS Programme. The Vice-Governor of Chui province, doctors of the province AIDS Center, the Legal Clinic "Adilet" and the NGOs "Koz Karash", "Ranar" and "Ayan Delta" participated in the seminar, which turned out to be quite significant. Medical doctors have a weak understanding of the legal aspect of HIV/AIDS, and human rights of people living with HIV in particular. This seminar is timely for the Chui province as a big number of people living with HIV is registered in this province.
The lawyer of the Legal Clinic "Adilet" Mr. Erik Iriskulbekov presented information of rights and obligations of the medical establishments and citizens. The Kyrgyz legislation states that a medical doctor is fully responsible to keep the medical secret, in other words all information related to the patient's visit, his/her diagnosis, facts of family and intimate life of the patient. A doctor has no right to share this information with the exception of the cases stated by the legislation (e. g. in some cases of official purpose). However, sometimes the medical doctors do not observe this duty and there are cases when information considered as medical secret (related to HIV diagnosis) was disseminated, bringing harm to the image and reputation of people living with HIV/AIDS (PLWH).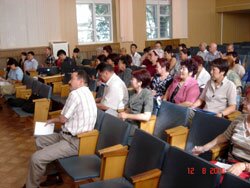 Doctors of AIDS centers have to deliver psychosocial consultation to every person going for HIV-testing. Damira Imanalieva, Head of the Dispensary Section of National AIDS Center, talked on this issue and underlined that unfortunately doctors in Kyrgyzstan not always carry out this consultation. The correct use of the consultation helps to avoid many problems in relationships of doctor and patient in the future.
Afterwards a hot discussion on how doctors should work with people living with HIV/AIDS took place. A doctor told, that before the seminar many of his colleagues behaved indifferently and with fear towards patients with HIV-diagnosis. The impressive presentation of Mr. Nourlan Shonkorov from NGO "Koz Karash" delivering support to PLWH helped to change doctors' attitude towards people living with HIV/AIDS.
For more information contact: Ekaterina Paniklova, Programme Manager, UNDP Joint Programme on Expanded Response to HIV/AIDS in the Kyrgyz Republic, or Ashir Chikeev, Information/Communication Specialist, tel.: (996 312) 62-04-49, tel/fax: (996 312) 66 36 91, e-mail: