Latest News
July, 24-25 UN Women together with OSCE provide support to the government of Kyrgyzstan and to its inter-agency working group set up for elaborating the NAP on implementation of UN Security Council Resolution 1325 on Women, Peace and Security.The working group is convened by the Prime Minister and is led by the Ministry of the Interior. On 24-25 July a two-day seminar was organized for members of the inter-agency working group.
27 July, 2012. A meeting between the President of the Kyrgyz Republic, Mr. Almazbek Atambaev, and the UN Country Team was held at the UN House in Bishkek on July 27th 2012. The meeting was organized to discuss the ongoing and future cooperation of Kyrgyzstan and the UN with focus on major priority areas. The President and the UN Country Team (21 agencies, funds and programmes) shared their views about the current work, and expressed their opinions about various challenges facing the country.
BISHKEK, July 11, 2012 - with world population surpassing 7 billion, the need to accelerate the progress towards achieving one fundamental goal - Universal Access to Reproductive Health Services - became the theme of World Population Day 2012.
Bishkek, 22 June 2012 – Today the United Nations High Commissioner for Refugees (UNHCR), in cooperation with the International Organization on Migration and the Ministry of Foreign Affairs of the Kyrgyz Republic, conducted a national consultation on mixed migration.  Mr. Djunushaliev, Deputy Minister of Foreign Affairs led consultations as National Coordinator, and representative of the Kyrgyz Republic in regional forums on mixed migration.
Bishkek, 20 June 2012 – Since 2001, World Refugee Day has been remembered on 20 June to raise awareness of the situation of refugees across the globe. Today 42 million people around the world have been displaced from their homes.
Kyrgyzstan has extended traditional hospitality to large numbers of people forced to flee their homes for years. At its peak, tens of thousands of refugees from Tajikstan found protection from the civil war in Kyrgyzstan. Now in 2012, the number of refugees and
Bishkek, 19 June 2012 – On 19 June Johann Siffointe, UNHCR Representative in the Kyrgyz Republic participated in a commencement ceremony of cadets of the Ministry of Internal Affairs Academy. On this occasion, Johann Siffointe congratulated the cadet team who last week won second place in the New Horizon international refugee law contest in Minsk, Belarus, 13-14 June 2012.
Bishkek, 14 June 2012 – Today the State Registration Service (SRS) of the Kyrgyz Republic organized a ceremony to hand over passports of Kyrgyz citizenship to 23 former stateless persons in Alamedinsky district of Chui province.
UNHCR supports the Kyrgyz Government in reducing statelessness through providing technical assistance for processing applications of stateless persons and refugees for citizenship. Over this year the joint project plans to grant some 7,000 people with Kyrgyz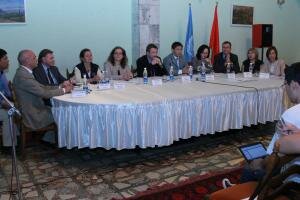 (Osh, 25 May 2012) On May 24, 2012 the United Nations in the Kyrgyz Republic organized a press conference about the peacebuilding projects in the south of the country.