UN in Kyrgyzstan
Latest News
In the framework of the ILO "Applying G20 Training Strategy" Project, an inten­sive 9-day Training of Key Facilitators (TKF) was held in Bishkek from 23 March to 1 April 2016 on Know about Business (KAB) – the subject taught in all primary vocational training schools across the country as an integral part of the curricu­lum. The previous training on the subject was held in Kyrgyzstan back in 2008.
BISHKEK, 1 April 2016 – Environmentally-friendly, innovative and cost-effective construction materials produced by the Kyrgyz private sector with the technical support of the United Nations Industrial Development Organization (UNIDO) were exhibited during the Bishkek Build 2016 exhibition. The event is Kyrgyzstan's largest and most renowned exhibition which showcases equipment and material from the building construction industry.
5-7 апреля 2016 года в Бишкеке проходит семинар по подготовке стратегического документа Рамочные основы оказания помощи Кыргызской Республике в области развития со стороны системы учреждений Организации Объединенных Наций на 2018-2022 годы (ЮНДАФ). Данный документ определит приоритетные направления сотрудничества в проводимых в стране реформах и содействию устойчивому развитию.
The representatives of the UN Peacebuilding Fund will arrive to the Kyrgyz Republic with an official visit. The visit will last from April 4 to April 8, 2016 and the international delegation will have several high level meetings. More specifically the members of the delegation will meet Mr. Farid Niyazov, the Head of the Office of the President of the Kyrgyz Republic, Ms. Mira Karybaeva, deputy head of the Office of the President of the Kyrgyz Republic as well as will have a number of field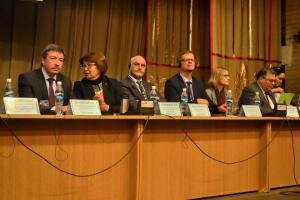 28-29 марта 2016 года в Кыргызско-Российском Славянском университете имени Б.Н.Ельцина пройдет Международная научно-практическая конференция на тему: «Образование в поликультурной Центральной Азии».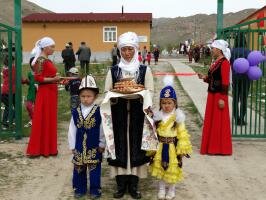 25-26 марта в городе Баткен проходит встреча по обмену опытом между представителями министерства образования Кыргызстана и Таджикистана, руководителями районных отделов образования, специалистами по образованию, представителями профильных вузов, партнерами и сотрудниками ЮНИСЕФ из Таджикистана и Кыргызстана. Участники обменяются достижениями проекта по продвижению концепции мира и толерантности в сфере раннего развития детей в двух странах. Это ответный визит делегации из Таджикистана, так как
23 марта в селах Лайли и Максат Лейлекского района состоялось открытие общинных детских садов «Данакер» и «Сейтек» для 130 детей. В открытии приняли участие Баймурат Бекмуратов, Глава государственной администрации Лейлекского района, Токтобюбю Ашимбаева, заместитель министра Министерства образования и науки Кыргызской Республики, Ник Боулер, Советник по государственному управлению, заместитель Главы Министерства Великобритании по международному развитию (DFID) в Центральной Азии, Эдуард Бонет,