UN in Kyrgyzstan
Latest News
10 December 2013 - Human Rights Day marks the anniversary of the adoption by the General Assembly of the landmark Universal Declaration of Human Rights.  This year's observance also marks 20 years since a bold step forward in the struggle to make rights a reality for all: the adoption by the World Conference on Human Rights of the Vienna Declaration and Programme of Action.  
9 December 2013 - Corruption suppresses economic growth by driving up costs, and undermines the sustainable management of the environment and natural resources. 

Bishkek, 5 December 5 (UNHCR) – Today UNHCR and the Ministry of Emergency Situations jointly convened 2nd Joint High level meeting on Contingency planning. High-level officials from different government and UN agencies participated to update the contingency plan was developed during the first Joint High level meeting in April 2013.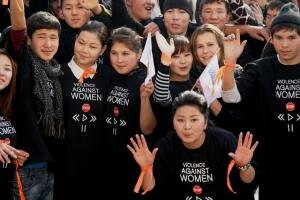 Bishkek, Kyrgyzstan, 25 November 2013 - The 16 Days of Activism Against Gender-Based Violence is an international campaign from November 25- International Day Against Violence Against Women till December 10- International Human Rights Day. Symbolically violence against women is linked to human rights and it is emphasized that such violence is a violation of human rights.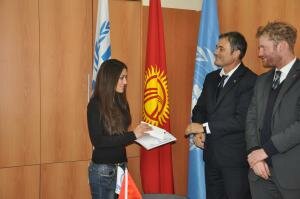 Bishkek, Kyrgyzstan, 22 November 2013 - Mohammad Yasin is a 25-year-old student at the International University in Kyrgyzstan. She fled with her family from Afghanistan to Kyrgyzstan when Taliban killed her father. In Kyrgyzstan, her family faced the problems of unemployment, language barrier, and access to education.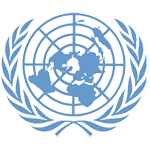 16 November 2013 - We are living through a period of global transition.  New centres of power and economic dynamism are emerging.  Technology is connecting us ever more closely, and cross-cultural exchanges are deepening every day – but this does not mean there is more understanding.  Societies are more diverse but intolerance is on the rise in too many places.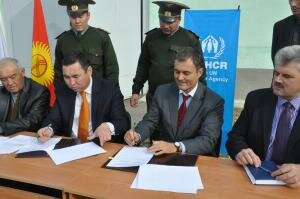 Osh, 5 November 2013 – The Representation of the United Nations High Commissioner for Refugees (UNHCR) in the Kyrgyz Republic donated non-food items to the Ministry of Emergency Situations of the Kyrgyz Republic worth over 400 thousand US dollars. These included about 22,000 fleece blankets, 15,000 collapsible jerry cans, 9,000 sleeping mats, 6,000 kitchen sets, 4,000 heavy duty plastic buckets, 700 light-weight tents, 640 plastic sheeting, and 5 generators.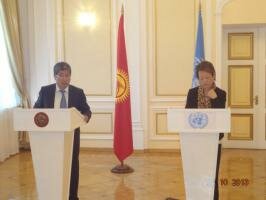 24 October 2013 - United Nations Assistant Secretary-General for Peacebuilding Support, Judy Cheng-Hopkins, is currently visiting Kyrgyzstan to discuss the new phase of funding support from the Peacebuilding Fund (PBF) for peacebuilding programmes in the country.