# 211
January 30, 2004
In this issue:
---
UNITED NATIONS DEVELOPMENT PROGRAMME (UNDP)
"AIDS in Kyrgyzstan: Five Years Resistance" book launched in Bishkek
Local Development Funds' Activities in Kyrgyzstan
UNITED NATIONS CHILDREN'S FUND (UNICEF)
Young football Players against Drugs and HIV/AIDS
---
UNITED NATIONS DEVELOPMENT PROGRAMME (UNDP)
"AIDS in Kyrgyzstan: Five Years of Resistance" book was launched in Bishkek recently.
The book thoroughly sums up the first five years of collaboration between the Government, UNDP and UNAIDS in the Kyrgyz Republic's response to the HIV/AIDS epidemic.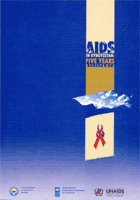 "We have reached considerable achievements during these five years but more challenges still lie ahead. In such as small country as Kyrgyzstan, a further spread of HIV/AIDS could have devastating effects on the country's economy and welfare. The past 5 years of successful HIV/AIDS prevention will definitely contribute to economic stability. One of the most important issues on today's agenda is halting the spread of HIV/AIDS and reducing drug consumption. It will require strong partnership between authorities, non-governmental and international organizations", said the Kyrgyz Prime Minister Kurmanber Osmonov, when the book was launched in Bishkek in presence of government officials, representatives of civil society, international organizations, and mass media.
The main objectives set in the "Prevention of sexually transmitted diseases and HIV/AIDS in the Kyrgyz Republic (1997-2001) project were achieved. The project's main success is the consensus achieved among a broad range of stakeholders to put the fight against HIV/AIDS as a priority on the development agenda. In addition, the partnerships established between state, non-governmental, international and community-based organizations has built a solid ground for continuous cooperation in HIV prevention. New approaches have been developed to innovative and inter-active Information, Education and Communication programmes, including specifically designed programmes for vulnerable groups. Harm reduction programmes have been launched for injecting drug users, including needle exchange and methadone therapy programmes.
"AIDS in Kyrgyzstan: Five Years of Resistance", is a best practice document on the effective mobilize a broad range of stakeholders to a consolidated holistic response to HIV/AIDS" says Mr. Jerzy Skuratowicz, UNDP Resident Representative. The book presents a variety of internationally recognized approaches to address HIV/AIDS and how these were used in the specific epidemiological situation of Kyrgyzstan. The situation here is characterized by a low prevalence, a somewhat increasing incidence and risk factors making the country vulnerable for further spread. The book is based upon a clear analysis of the AIDS epidemic's development in Kyrgyzstan, of its social end economic dimensions and most important - it provides lessons learned for future action."
Published in the Kyrgyz, Russian and English, 1600 copies altogether, the book was given out at the launch s and now is being widely distribute in and out the country. The electronic version of "AIDS in Kyrgyzstan: Five Years of Resistance" is available on: http://www.aids.undp.kg at "Publications/Books" section.
For more information please contact Mia Rimby, UNDP Programme Officer. Phone: (996 312) 61 12 13. E-mail:
Local Development Funds' Activities in Kyrgyzstan
In order to fulfill the economic needs of the communities along with their social needs, UNDP in Kyrgyzstan supports promotion and implementation of income generating activities, jointly planned and carried out by the Community Based Organizations at the village level.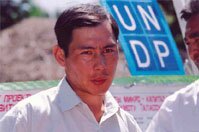 Since 2001, after getting 150 thousand US dollars grant of the AGFUND (Arab Gulf Fund) the UNDP Local Self Governance programme started activities in Local Development Funds establishing. During 2002-2003, 166 Community Based Organizations implemented 112 economic projects supported by 17 Local Development Funds established in pilot village municipalities. The total value of these projects amounted in more than 270 thousand US dollars, where UNDP/AGFUND's contribution was 140 thousand US dollars. Among the most successful income generating projects are mini-mills, animal husbandry, poultry farming, reviving of national handicrafts and small agricultural processing businesses. Creation of new jobs is one of the most impressive achievements of these projects. Approximately 8200 households have benefited out of them.
Having revolving mechanism as the background, and being managed by the Community Based Organizations in close cooperation with the local authorities, Local Development Funds represent nowadays one of the most effective scheme of small village banks, providing villagers opportunities for small and medium business development in a way they work in partnership with local self-governance to reduce poverty in rural areas.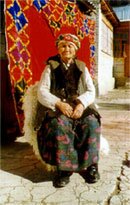 The example of success story could be presented through initiative of "Cholpon" community based organization, from Toguz-Bulak village, which is now famous all over the Osh province. Women of the village decided to unite and start their own business by opening a workshop for the production of national crafts. Almost nobody in the village believed that the idea would be a success that time, but the so-called 'weaker sex' proved that women could accomplish a lot. Village municipality provided "Cholpon" CBO with a building. Than members of CBO developed a business plan and submitted it to the board of the Local Development Fund which approved proposal and provided NGO with money for purchasing wool-carding and felt-making machines. Currently, "Cholpon" CBO is overrun with the new orders for traditional Kyrgyz handicrafts production; paid back the loan to the Local Development Fund and is able to develop its business further. Moreover, women share their successful experience with people from all over the province.
"Before, we did not believe that we could establish our own Local Development Fund and we didn't have any idea that an LDF credit portfolio would increase automatically with our own contributions, says Kadyr Sydykov, manager of the "Ishker" CBO in Osh province. "Now we are sure that we can change our own lives and there is no need for huge amount of money for that."
For additional information, please contact Alexander Kashkarev, UNDP Programme Officer. Phone (0 996 312) 61-12-13. Email:
UNITED NATIONS CHILDREN'S FUND (UNICEF)
Fair Play - The Spirit of Sports: Young football Players against Drugs and HIV/AIDS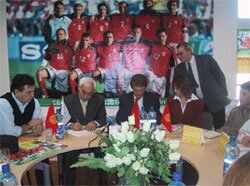 On 21-31 January, in Talas, Jalal-Abad and Chui Oblasts active young football players together with their coaches discussed their needs for information and knowledge in preventing the spread of drug use and HIV-infection in Kyrgyzstan. The young football players also gave inputs to the development of messages and communication materials that would help them and their peers to protect themselves. The meetings between the facilitators, young peer educators from the Kyrgyz Alliance for Reproductive Health, and football players and their coaches are just the first step in an HIV/AIDS and drug use prevention communication campaign that will run during 2004 throughout Kyrgyzstan.
This project is initiated by the United Nations Children's Fond (UNICEF) and the Football Federation of the Kyrgyz Republic. On 14th of January, 2004, Memorandum of Understanding was signed between Mr. Richard Young, UNICEF representative and Mr Amangeldi Muraliev, Chair of the Football Federation to join efforts in supporting a number of activities that aim to increase the knowledge, skills and attitudes towards safe behaviors among approximately 7000 young football players of the Kyrgyz President's Football Cup.
The Football Cup is for young boys aged 12 to 14 years. Several surveys carried out during the last couple of years in Kyrgyzstan shows that adolescent boys are more likely than girls to experiment with drugs and to become sexually active at a young age. When it is taken into consideration that the bulk of HIV-infected people in Kyrgyzstan are young men aged 15-29 years, it is essential that adolescent boys have the knowledge, skills and attitudes necessary to adopt safer behaviors.
While the direct involvement of young football players in the planning and implementation of the activities is extremely important, the coaches and other key adults play an equal important part as role models that can help to provide the right information, support healthy lifestyle messages and facilitate skills development.
For additional information, please contact: Richard Young, Resident Representative. Phone: (996 312) 61 12 24, 61 12 25; e-mail: