# 214
February 27, 2004
In this issue:
---
UNITED NATIONS DEVELOPMENT PROGRAMME (UNDP)
UNDP Kyrgyzstan/Tajikistan cross-border meeting in Khudjand (Tajikistan)
Building capacity of civil servants in Local Administration in the Kyrgyz Republic
Gender Expertise Manual on Legislation of the Kyrgyz Republic
UNITED NATIONS VOLUNTEERS (UNV)
Talas becomes Forerunner in Donor Coordination with UNVs support
UNITED NATIONS DEVELOPMENT FUND FOR WOMEN (UNIFEM)
UNIFEM helps strengthen cooperation to eliminate violence against women in Central Asia
---
UNITED NATIONS DEVELOPMENT PROGRAMME (UNDP)
UNDP Kyrgyzstan/Tajikistan cross-border meeting in Khudjand.
On February 20, 2004 a UNDP's Kyrgyz/Tajik Cross-border cooperation project conveyed a coordination meeting and Early Warning training in Khudjand, Tajikistan. The cross border project is implemented within UNDP Kyrgyzstan's Preventive Development Programme and UNDP Tajikistan Communities Programme to promote peace and stability in cross-border areas in Batken and Sughd provinces. Target areas for this project is cross border settlements in Batken (Leylek district) and Sughd (Isfara and Jabborasul districts) Conflict situation due to competition over resources as well as limited presence of other donor organizations were among main criteria for selecting these zones.
The coordination meeting aimed at working out a common approach to the project implementation by both sides as well as to discuss early warning system (EWS) methodology. During the meeting participants developed a common understanding of the most effective approach to Early Warning in this specific geographical area. Early Warning methodology depends on constant information gathering on situation in cross-border areas and its analysis. It was agreed that project staff will analyze the political, economic and social situation in each municipality where the cross border project is operating. Cross border communities in order to work out effective preventive strategy. Information gathering and analysis will be conducted with the use of certain indicators and risk factors, applicable to different communities and the end product will be a preventive strategy in each locality, developed in participation with inhabitants and local authorities. The meeting also addressed the issue of coordination with local authorities planning and donor activity.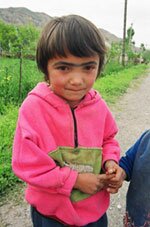 The Early Warning training was conducted for newly recruited early warning monitors who live and work in cross border communities. UNDPs Regional Peace and Development Adviser Anna Matveeva, based in Dushanbe, conducted the training. The selected local monitors have higher education and are well known and respected personalities in their communities. The training emphasized on conflict analysis indicators and ethnographic data-collection including participant observation and interviewing techniques. The Local Monitors will report to UNDP every six weeks. An academic analyst in each country will compile the reports, set the monitors' observations in a broader Central Asian context and perspective. Early Warning reports will be published every three month and made available to all stakeholder and the public.
Note: For the past 3 years UNDP has been addressing conflicts in the Kyrgyz Ferghana Valley through the Preventive Development Initiative. The multiethnic area of the three southern provinces of Kyrgyzstan, Osh, Batken and Jalal-Abad, face numerous economic, political and social challenges. Among them: border-tensions with Uzbekistan and Tajikistan, tensions around Uzbek enclaves located in Kyrgyzstan's Batken Province, competition over resources, lack of potable and irrigation water and an overall break-down of the former soviet social and employment infrastructure. Many of these challenges are channeled among ethnic lines - people take their frustrations out on neighboring villages where another ethnic group is living.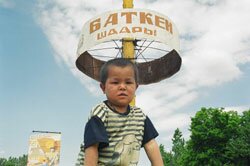 The success of the UNDP initiative and strong partnership with its Bureau for Conflict Prevention and Recovery, the Swedish International Development Agency and the Government of Norway has led to an expansion of UNDP activities in the Ferghana Valley. On July 1, 2003 UNDP launched the new expanded Preventive Development Programme in partnership with the Kyrgyz Security Council.
This programme, with its field office located in the southern city of Osh, aims at supporting peace and stability through five programme components: Early Warning System, Emergency Grants, Awareness Raising and Capacity Building of Communities, local and central authorities on conflict prevention and management, policy advice and support to networking between government, regional authorities and international organization, and a BCPR funded cross-border conflict prevention project in cooperation with UNDP in Tajikistan.
For additional information please contact Mia Rimby, UNDP Programme Officer. Tel.: (0 996) 312 61-12-13. Fax: (0 996) 312 61-12-17. Email:
You could also refer to UNDP Preventive Development programme website: http://www.pdp.undp.kg/
Building capacity of civil servants in Local Administration in the Kyrgyz Republic.
The UNDP project with this title will start its implementation soon in Kyrgyzstan. Funded by the UNDP Thematic Trust Fund, this project will for the first time provide municipal civil servants with a holistic educational programme according to the principals of good governance.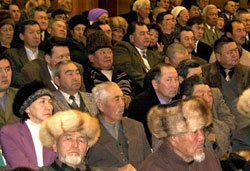 The year of 2004 was announced in Kyrgyzstan as a Year of Social Mobilization and Good Governance, thus the goals of the project in providing essential knowledge to the staff of local administrations through creation of two Municipal Training Centers (in North and South of the country) are fully in line with national priorities. Capacity building of the local self-government staff and better information dissemination are essential for improving public services to the people. In addition to providing short-term orientation and basic public management training courses for thousands newly elected leaders and council members, the project will address an issue of further needs assessment in the area of capacity building of elected officials and appointed personnel at the local level.
The Academy of Management under the President of the Kyrgyz Republic will play a leading role in developing and delivering appropriate training courses and workshops. Within framework of the project a close partnership will be established also with the Congress of Local Self-Government Institutions, Association of the Local Self-Government Institutions, Association of Cities, Community Based Organizations, territorial bodies of self-government and other public organizations.
Note: Since 1998 UNDP implements Local Self-Governance Programme and supports public administration reform and reduction of poverty in Kyrgyzstan. A key question in development of effective system of local self-governance on the basis of decentralization has been the task of an optimum combination of the state and public interests in local governance. For this reason during five years UNDP, using the best practices works in Kyrgyzstan at all levels – with community-based organizations and government officials, has been providing assistance in creation of the legislative base for decentralization and local self-governance, organizing training for government employees, supporting initiatives of local communities and promoting development of partner attitudes between the population and governing institutions on places. Today in 30 pilot municipal administrations all over the country there are 1260 community-based organizations functioning as independent self-governing institutions, which actively operate and participate in development of their settlements, microcrediting processes, as well as in the processes of decision-making at the local level. Members of community-based organizations managed to save up already about 7 million soms, which alongside with other sources of financing used by villagers to increase their standards of living, create workplaces and make their communities independent and stable. On 17 December 2002 the National Strategy on Decentralization and Development of Local Self-Governance developed with support of UNDP was signed by the President.
For additional information please contact Alexander Kashkarev, UNDP Programme Officer. Tel.: (0 996) 312 61-12-13. Fax: (0 996) 312 61-12-17. Email:
Manual on Gender Expertise of Legislation of the Kyrgyz Republic launched
Prepared by the team of National experts in close collaboration with UNDP and Secretariat of the National Council for Women's, Family and Gender Development under the President of the Kyrgyz Republic, the document includes the following sections: Concept of Gender, Legal Aspects of Sexual Differentiations Between People, Securing Gender Equality in the Constitution of the Kyrgyz Republic, Gender Expertise of Legislation, as well as Methodology and Mechanisms of Gender Expertise.
The Manual will allow researchers, professionals, lawyers, members of the Kyrgyz Parliament and national experts to look at not just existing legislation from a new perspective, but also at people's behavioral patterns in the Kyrgyz society.
The team that had been working on the Manual managed to examine customs and traditions of Central Asian people, gender policy of the Soviet past as well as traditional religions (Islam in particular) and new religious trends that have become part of Kirgizstani life, which were and continue to impact greatly interpersonal relationships in the Kyrgyz society .
The electronic version of the Manual could be obtained on the UNDP CO website: http://www.undp.kg, go to "Publication" section of the website.
For more information, please contact Aikan Mukanbetova, UNDP Programme Officer and Gender Focal Point. Tel.: (0 996) 312 61-12-13. Fax: (0 996) 312 61-12-17. Email:
UNITED NATIONS VOLUNTEERS (UNV)
Talas Becomes Forerunner in Donor Coordination
First Initiative in Kyrgyzstan to Coordinate Development Assistance on the Ground.
In Talas, NUNVs have initiated a Donor Coordination Council on province level. This initiative was started end of last year, since then already four constituent meetings have been held. Members of the Donor Coordination Council are so far the Talas Provincial Administration and projects of UNDP, DFID, Word Bank and other agencies active in the province. The main objective is to coordinate the initiatives and projects with local communities and local self governance bodies in Talas province in the fields of poverty reduction, strengthening population health, in support of decentralization policy, democratic society and rule of law. The coordination aims to reduce duplications, join efforts and guarantee a fair and needs orientated support to the communities. This is the first provincial initiative in Kyrgyzstan to coordinate donor assistance on the ground. The memorandum of the Donor Coordination Board was signed in 06 December 2003.
UNDP and UNV Give the Press a Lift
On the last field trip of the UNV Unit to Talas province, Mr. Magnus Bjork and UNV COA Ms. Marina Kulbaeva were joined by a Kyrgyz Radio Journalist, Ms. Gulnara Mambetalieva 10-12 February 2004. Knowing that Kyrgyz journalists do not have much budget for research trips to other provinces beyond Chui UNDP tries to put from time to time an interested journalist from major Bishkek media on field trips of UNV and UNDP. This is meant as a little but effective contribution to a better information flow and news delivery from the regions to the capital. Ms. Mambetalieva took the chance for interviews and information gathering from province administration officials, NGOs, UNVs as well as people on the streets. Her research resulted in radio programmes, broadcasted countrywide through Kyrgyz State Radio
For further information on this initiative please contact Magnus Bjork, UNV Programme Officer. Tel.: (0 996) 312 61-12-13. Fax: (0 996) 312 61-12-17. Email:
UNITED NATIONS DEVELOPMENT FUND FOR WOMEN (UNIFEM)
UNIFEM helps strengthen cooperation to eliminate violence against women in Central Asia.
On 18 - 20 February 2004, United Nations Development Fund for Women (UNIFEM) held in Almaty, Kazakhstan, the regional workshop Strengthening Cooperation with Law Enforcement Agencies for the Elimination of Violence against Women in Central Asia.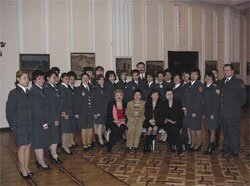 The workshop brought together 70 representatives of national machineries, law enforcement agencies and NGOs from Kazakhstan, Kyrgyzstan, Tajikistan and Uzbekistan to discuss ways to enhance the role of the police and courts in prevention and control of gender violence. As a result of the workshop, participants developed national action plans on tripartite response to violence in their countries. This is a crucial achievement as through these action plans the governments in Central Asia not only recognize the urgency of the problem but also commit to joint efforts in its eradication.
In the course of the workshop, country teams overviewed the work of law enforcement institutions in the sphere of women-targeted violence in their respective countries. Special focus was made on the best practices and experience of the Kazakh police, as Kazakhstan is the only country in the CIS to have established police departments in charge of protection of women from violence. The tasks of such police units, started five years ago, include reaction to violent acts, investigations in forms, types and causes of violence, collecting criminal statistics, and public education for early prevention of violence against women. "The efficiency of these departments is manifested in the fact that 6.5% less crimes against women was registered in Kazakhstan in 2003 compared to the previous year", said Mrs. Saida Iskakova, head of the Secretariat of the National Commission on Women and Family Affairs of Kazakhstan.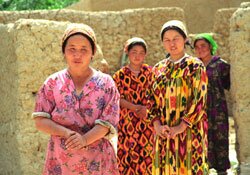 The few studies and surveys results that are available all seem to indicate that gender-based violence has increased during the transition period in Central Asia. High rates of unemployment and poverty and growing consumption of drugs and alcohol in the region increase probability of women becoming a target of abuse. Lack of data on the incidence of violence against women, its causes and health and social consequences seriously hamper formulation of the extent of the problem and efforts to monitor and combat it.
UNIFEM has been extensively working in the area of elimination of gender violence in the CIS. This workshop was held in the framework of capacity-building component of UNIFEM project Elimination of Violence against Women in Central Asia started in 2002. The project has awarded 15 grants for the total amount of US $ 450,000 to enable governmental and non-governmental organizations in Kazakhstan, Kyrgyzstan, Tajikistan and Uzbekistan to combat gender-based violence in their countries. The funds in the amount of US $ 450,000 were provided by the German Government.
More information about the project can be found on www.unifemcis.org and www.nasilie.net