# 217
March 19, 2004
In this issue:
---
UNITED NATIONS DEVELOPMENT PROGRAMME (UNDP)
Project for the Future. The "Vocational Education for Street Children in Kyrgyz Republic" project signed
Agreement with Southern Provinces of Kyrgyzstan
Supporting an Initiative to Use «Open Source» Technologies in Kyrgyzstan
UNITED NATIONS POPULATION FUND (UNFPA)
Handing Out of Medical Equipment
A Distance Learning Course to Train Specialists in Promoting Reforms
UNITED NATIONS DEVELOPMENT FUND FOR WOMEN (UNIFEM)
Supporting Evaluation of Gender Dimension of the Land Reform in Kyrgyzstan
---
UNITED NATIONS DEVELOPMENT PROGRAMME (UNDP)
The "Vocational Education for Street Children in Kyrgyz Republic" project was signed by UNDP, Ministry of Labor and Social Protection of the Kyrgyz Republic, and Mayor's Office of Bishkek on 16 March 2004 at the UN House.
The project aims to contribute to the efforts of Kyrgyz Government and civil society in poverty reduction and increased life-quality through establishment of a vocational school for street children.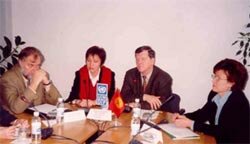 "There is a popular saying: if you make a project for one year – sow wheat, for decades – plant trees, for a century – raise children. That is why we consider our new project implemented with UNDP and Norwegian government very important because it is connected with the younger generation," said Deputy Mayor of Bishkek, Nadezhda Melnichuk, at the UN House during the signing ceremony for the project.
The government of Norway has granted US $ 1.768 million for the vocational training of homeless children in Kyrgyzstan. According to UNICEF, today there are at least 6,000 homeless children in Bishkek alone. Almost all of them either do not study at all or have minimal, primary education. So they are doomed to unemployment.
"Our project is going to change the situation," said Jerzy Skuratowicz, UNDP Resident Representative. "We expect to influence with political, legal and institutional environment related to homeless children in Kyrgyzstan", - he said.
"It is a great pleasure to see your dreams come true," said Bjorn Roar Bye, director of Solidarity Norway-Kyrgyzstan. "This is happening now. In the 1990's together with UNDP we built and opened the Center for Social Adaptation of Homeless Children in Bishkek's Dzhal residential district. More than 150 children passed through the center during three years. You cannot even imagine what wonderful and gifted children they are. I am happy that now we can also train these children."
For additional information, please contact Aikan Mukanbetova, UNDP Programme Officer. Tel.: (0 996 312) 61-12-13. Fax: (0 996 312) 61-12-17. Email: or Olga Grebennikova, UNDP Public Relations Officer. Tel.: (0 996 312) 61-12-13. Fax: (0 996 312) 61-12-17. Email:
On March 11th 2004 the agreements on cooperation between UNDP and Osh State Administration was signed in the office of Osh Governor.
Later this day the same agreements were signed in the UN Liaison Office in Osh with Governors of Batken and Jalalabat provinces.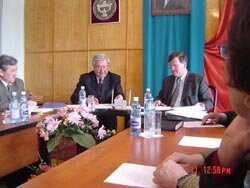 By signing of this document Osh Governor Naken Kasiev highlighted the role UNDP programs are playing in support state administrations in areas of poverty reduction, administrative reforms and preventive development working in South of Kyrgyzstan. "In particular, said Mr. Kasiev, - since 1998 around 400 self-help groups of poorest created with UNDP support were provided with more than 45 millions soms of microcredits. After UNDP initiative were created more than 1900 Community Based Organizations playing now a significant role in improving people's lives in rural areas and actively participating in the decision-making process on the grass roots level.
"We have to praise UNDP Preventive Development programme for those important contribution into securing of peace and stability in Kyrgyz part of Ferghana Valley, multicultural and multiethnic region of Central Asia faced a lot of problems after the collapse of Soviet Union with border issues, as well as access to land, water and other important resources, - he said.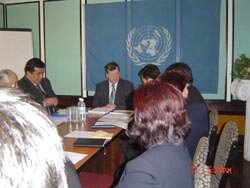 UNDP Resident Representative Jerzy Skuratowicz highlighted fruitfulness of cooperation with all three Southern provincial administrations. He said that UNDP aims at strengthening coordination in programme activities and addressing good partnership with all levels of state administration in order to gain more success in poverty reduction, decentralization of power and conflict prevention in the framework of signed agreements.
For additional information, please contact Olga Grebennikova, UNDP Public Relations Officer. Tel.: (0 996 312) 61-12-13. Fax: (0 996 312) 61-12-17. Email:
Mr. Semenov, UNDP International ICT Consultant (USA) has been visiting Bishkek with a mission since 15th March.
The main goal of the mission is to create conditions for effective use and development of «open source» technology (software program with open code) in Kyrgyzstan. Mr. Semenov will meet with representatives of leading private companies, representatives of governmental structures, universities, NGO and international organizations in order to identify goals and common interests, related to use of these technologies. Main result of the mission would be creation of an independent structure, ensuring development and implementation of specific projects on «open source» and development of professional services in this field.
«Open source» technology is being widely introduced throughout the world. Experience in using of «open source» shows that its development and introduction to ICT industry expands number of users and creates conditions forthe development of information services, provided at the market. The most famous example of such an economic growth is Internet network, which was initially developed on the basis of free and open technologies.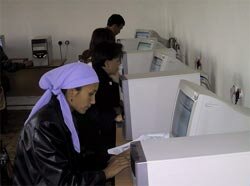 A comprehensive introduction of «open source» technology offers great advantages for developing countries. This is an opportunity to save funds by avoiding expensive licensing, where it is possible to use free «open source» products instead of commercial ones. On the other hand, this is an accumulation of experience and expansion of your own professional base, while using local human resources for the development of such systems. This is an organization of training process in the sphere of technical education in such way that would ensure maximum practical efficiency, provide students with real experience and expand services, rendered by local companies in the filed of information technologies. Development goals of «open source» technology were widely discussed at World ICT Summit, held in December 2003 in Geneva. Kyrgyz delegation headed by Mr. Akaev, the President of Kyrgyz Republic and assisted by Mr. Semenov made a number of specific proposals to increase the role of developing countries in creation of «open source» technologies and introduction of specific projects.
UNDP actively supports an initiative, aimed at using of «open source» in developing countries. In the framework of UNDP support, Kyrgyzstan has invited Mr. Semenov to formulate action plan on development and introduction of «open source» in Kyrgyzstan.
For additional information, please contact Olga Grebennikova, UNDP Public Relations Officer. Tel.: (0 996 312) 61-12-13. Fax: (0 996 312) 61-12-17. Email: or Ms. Dinara Rakhmanova, Program Manager, UNDP National Governance Programme. Tel: 66-48-31, email:
UNITED NATIONS POPULATION FUND (UNFPA)
Handing out of medical equipment within the frameworks of project "Improvement of Community Reproductive Health Services in the northern regions of Kyrgyzstan"
On March 16, 2004, at the UN House, United Nations Population Fund (UNFPA) jointly with the representatives of the Embassy of Japan in Kyrgyzstan, within frameworks of project "Improvement of Community Reproductive Health Services in the northern regions of Kyrgyzstan" handed out the medical equipment to the Family and Marriage Consultations Room under Chui Family Medicine Center and Chui Crisis Center.
The Government of Japan within the frameworks of UN Human Security Trust Fund finances the project, which was officially signed in 2003 for 3 years of duration and is jointly implemented by UNFPA, the Government of Kyrgyzstan (the Ministry of Health) and Kyrgyz Family Planning Alliance.
The project aims to improve the reproductive health status of women, men, and adolescents in Northern Kyrgyzstan through improved community health care services, which a focus made on vulnerable groups (families living under the poverty line in mountainous and remote areas, families with large number of children, internally displaced persons, youth).
It will allow building the capacity of the national Social Patronage System (SPS) to deliver reproductive health services and to provide information on HIV/AIDS/STI prevention and family planning. Within the frameworks of the project, establishment of crisis centres in all northern provinces to provide consultation and information to vulnerable groups of population in the area of HIV/AIDS/STI prevention, reproductive and sexual health issues will be supported.
One of important components that will allow reaching the goal and purpose of the project is the technical equipment of institutions that provide reproductive health and family planning services. Medical equipment is envisaged for all northern provinces: Chui, Naryn, Issyk Kul and Talas.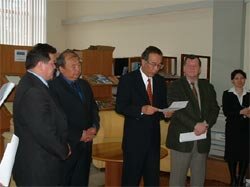 Medical equipment planned for Chui Family and Marriage Consultation Room includes high-density ultra sound scanner, examination gyn, instrument trolleys, chairs adjustable, midwifery kits for Social Patronage Workers, IUD insertion kits, sterilizer and light examination mobile. Examination table gyn, IUD insertion kit, sterilizer will be handed out to crisis centre of Chui province, which was established on the basis of Kyrgyz Family Planning Alliance. Total amount of medical equipment is USD 9,727.00.
Handing out of medical equipment to Family and Marriage Consultation Room under Naryn Family Medicine Centre and Issyk Kul Human Reproduction Centre is to be held by the end of 2004.
For additional information, please contact Alexander Ilyin, UNFPA Assistant Representative. Phone: (0 996 312) 61-12-02. Fax: (0 996 312) 61-12-04. Email:
World Bank Provided a Distance Learning Course to Train Specialists in Promoting Reforms.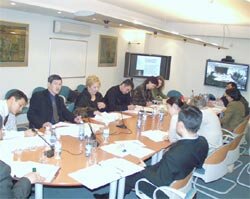 Building understanding and consensus among a broad range of stakeholders is critical to the success of public sector reforms.
In recognition of this, the World Bank has launched a new Global Distance Learning Network (GDLN) program on "Communicating Reform: the Missing Link" for policymakers, development specialists, government officials, civil society representatives and mass media professionals.
From 4 February to 11 March 2004, this course was provided for specialists from Central Asia via a series of videoconferences with their colleagues from Washington, D.C. and countries of Eastern Europe.
About 30 participants from the Kyrgyz Republic have learned from international experience and debated with each other the value and use of strategic communication in implementing politically difficult or controversial reforms.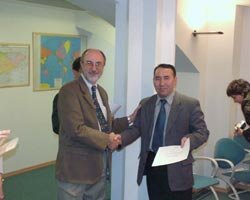 "Let me thank the World Bank for such an interesting and useful course. Hopefully, you will invite us to participate in initiatives of this kind in the future" – said Elena Avdeeva of newspaper "Vecherni Bishkek" at the ceremony of awarding the course certificates.
"I think we will be able to apply in practice the received knowledge and skills" – noted Kayrilla Ismailov of the Social Fund of the Kyrgyz Republic.
For additional information, please contact Chris Lovelace, WB Country Manager. Tel.: (0 996 312) 61-06-50. Fax: (0 996 312) 61-03-56. Email:
UNITED NATIONS DEVELOPMENT FUND FOR WOMEN (UNIFEM)
On 12 – 13 March 2004, the government of Kyrgyzstan held an international conference devoted to the evaluation of the first decade of the land and agrarian reform in the republic.
UNIFEM hosted The Gender Dimension of the Land Reform working section within the conference with the aim to discuss the impact of the land reform on the economic situation of women and strategies for full realization of women's economic rights in the further course of the reform. The gender section summoned together MPs, representatives of the ministry of agriculture, national statistical agency, heads of district and local administrations, women and men farmers and NGOs, in total over 80 persons. "For the first time in my life I see an obvious majority of men present at a gender-theme meeting and this gives me big hope men will understand women's problems and help", said Gulnara Baimambetova, manager of UNIFEM project on women's land rights in Kyrgyzstan and head of the Association of Women Entrepreneurs of Kyrgyzstan.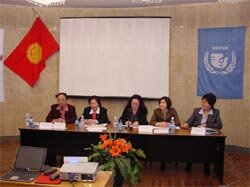 Access to land resources is critically vital in the country where 80% of the territory is covered with mountains while two thirds of the population lives in the rural areas. Kyrgyzstan has been a pioneer in the region in land privatization and general liberalization of economy. It is the only country so far in the CIS to have conducted a nationwide agricultural census after the independence. According to census data, the share of women in agriculture has dropped from 64% in 1999 to 43% in 2003. Women head 12% of all households and are consistently among the poorest. Women-headed households account for only 8% of total farmland distributed for private use. The average size of a farmland plot held by a household in Kyrgyzstan is 3.8 hectares while for women-headed household this figure is only 2.5 hectares.
Gender section participants expressed concerns women have not been gaining adequately from the land reform in Kyrgyzstan. Some of the cited reasons are low awareness of rural women of their property rights and land related procedures; dominance of stereotypes discriminating women in land and property ownership and use; flaws in land and civil legislation and policies; and prejudiced attitude of land distributing agencies.
As a result of the gender section work, participants issued a statement with recommendations for the government to take into account in further planning and realization of the reform. In particular, the participants highlighted the need for further development of gender disaggregated statistics and statistical surveys in rural areas, more responsibility and involvement of local authorities and further improvement of legislation and policies, such as increase of women's access to credits and other agricultural resources, etc (please see the full text of the statement in Russian on http://www.unifemcis.org/docs/LandResolutionEng.doc). The statement was submitted to the organizing committee for further incorporating into the common resolution of the conference. Damira Sartbaeva, UNIFEM CIS Regional Programme Director, voiced the main points of the statement during her speech at the conference general plenary meeting, which was attended by the President of Kyrgyzstan Askar Akaev and Prime Minister Nikolay Tanaev. Since 2002, UNIFEM has been using the land reform as an entry point through its project "Strengthening economic security of women in the course of the land reform in Kyrgyzstan". The first phase of the project focused on providing legal counseling for rural women and men on their land and property rights through offices all over the country, and a nationwide information campaign. The analysis of cases handled by project legal offices allowed to draft amendments to the articles of the Land Code that discriminate women's land rights and are in discord with the Convention on Elimination of All Forms of Discrimination Against Women (CEDAW). The amendments have already been approved by the Lower Chamber of the Kyrgyz Parliament.
Significant achievements of the first phase of the project enabled UNIFEM to attract funds of the Norway government in the amount of one million euro for its continuation. In the second phase of its project, UNIFEM will continue strengthen economic security of rural women by training them in farming, cattle breeding, marketing of agricultural produce etc. Other strategies include further engendering of the national legislation and social mobilization in the form of gender budgeting. UNIFEM efforts in the country have consistently enjoyed the government's interest and support. The day before the land conference, UNIFEM project staff was invited for an exclusive meeting with Prime Minister Nikolay Tanaev, who showed deep knowledge of the project activities and pledged further support.