# 232
September 10, 2004
In this issue:
---
UNITED NATIONS VOLUNTEERS (UNV)
Strengthening Youth in Kyrgyzstan: New initiative targets youth involvement in the MDGs and promotion of volunteerism
---
UNITED NATIONS VOLUNTEERS (UNV)
Strengthening Youth in Kyrgyzstan: New initiative targets youth involvement in the MDGs and promotion of volunteerism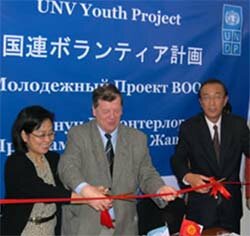 3 September 2004 - United Nations Volunteers (UNV) Volunteer Information Center, formerly known as UN Volunteers Resource Center located in UN House, is starting the new phase at the new premises to continue its role as the leading advocate of volunteerism in development and Millennium Development Goals in Kyrgyzstan.
UNV Program in Kyrgyzstan has been supporting human development by promoting volunteerism and by mobilizing volunteers with its initiatives in the country since 1996. Volunteerism makes important contributions economically and socially, creating indigenous ownership of the development processes.
In 2000 to 2001 (Year 2001: International Year of Volunteers) UNV Program and Soros Foundation Kyrgyzstan jointly implemented a project called "Volunteer Initiative Center" to promote volunteerism among local people, especially targeting young population. By the end of the project its active student volunteers established a non-governmental organization in order to continue and develop the project's major activities such as network of regional youth centers, collaboration with European youth organizations and volunteer initiated social activities.
In May 2002 the UNV Program opened UN Volunteers Resource Center in UN House supported by UNDP to restart services to promote volunteerism based on the successful experience of the Volunteer Initiative Center. Until January 2003 when an International UN Volunteer took up coordination of the center, it was utilized by local youth NGOs. The center put mobilization of youth into volunteer action as its priority and worked as a central meeting place for volunteers and people who wanted to learn about volunteer issues, providing information to support their initiatives, organizations and networks until June 2004.
From February 2003 to June 2004 3,400 people in total visited the center; 50% volunteers and volunteer coordinators of volunteer organizations/groups and volunteer involving organizations*, 25% volunteers who worked for the center, 15 % young people who are interested in volunteering, and others.
* Volunteer Organizations refer to any non-profit organizations that carry out voluntary activities as defined in this law and which aim is promotion of voluntarism.
* Volunteer Involving Organizations could be any organization, state institution, NGO, charity, profit-organization, international organizations that involves volunteers and organize volunteer activities as defined in this law.
Over 350 people (75% age 18~24; 20% 11~17; 5% 25~) registered as volunteer candidates from February 2003 to August 2004. They receive volunteer related information including volunteer opportunities. Some of them volunteered for organizations or volunteer groups assisting in office work, translation, English teaching, HIV/AIDS or Human Rights peer training, charity concert, research & survey and so forth. Some of them created their own volunteer activities such as English Club at orphanage or boarding school, charity concert, orientation course to promote volunteerism at their own school, presentation of local ecological problems, coordination of training and roundtables, book collection and distribution for orphanages, and more.
UNV Volunteer Information Center will continue its services to promote volunteerism in Kyrgyzstan together with the UNV Youth Project sponsored by the Japanese Government and UNDP for the next two years. The center has a little library and is open to the public. New schedule of events such as orientation course for people who are interested in volunteering will be posted soon.
For more information, please contact Tomoko Matsui, Coordinator, or Nazik Amanova, Assistant to Coordinator, UNV Volunteer Information Center; address: 19 Logvinienko Street, Bishkek; Tel: (996-312) 66 66 37; e-mail: ; or visit website: http://www.unv.org.kg/rc You are also welcome to contact Mr. Magnus Bjork, UNV Programme Officer. Tel.: (0 996) 312 61-12-13. Fax: (0 996) 312 61-12-17. Email:
United Nations Volunteers in Kyrgyzstan-update September 2004
Facts and figures
There are currently three International UNV (IUNV) Specialists and 39 National UNV Specialists (NUNVs) serving in Kyrgyzstan. Most of them are working with UNDP/UNV Local Self-Governance Program and UNDP Poverty Reduction Program. Other thematic areas are HIV/AIDS and Media and the Promotion of Youth Volunteerism. One NUNV is serving with UNHCR. Currently one Kyrgyz International UNV is serving in Somalia (UNHCR). UNV has contributed US$ 775,000 from its Special Voluntary Fund (SVF) to UNDP Poverty and Local Governance Projects.
South – South Cooperation has been substantial in Kyrgyzstan until the end of 2003 with a number of IUNVs from countries such as Tanzania, the Gambia, Sierra Leone, Nepal, Ghana, Ethiopia, Mongolia and Uzbekistan sharing their experiences in the Poverty Reduction and Local Governance Programs.
Contribution to UNDP practice areas
Poverty Reduction: 15 NUNVs are currently serving in the UNDP Poverty Reduction Programme. They are working to reduce rural poverty through four areas; policy advice, social mobilization, micro-finance development and small-scale business development.
Local Governance: 23 NUNVs are currently serving in the UNDP Local Governance Programme. They are promoting local governance and community development through four areas; decentralization, institution and capacity building, participatory development planning and local self-government infrastructure development. The initial phase of the project was supported by UNV through the SVF to the tune of US$ 700,000.
HIV/AIDS: One IUNV Media Specialist has developed the HIV/AIDS communication strategy for Kyrgyzstan media and the UN through extensive research in the country. Training for journalists and other actors has been conducted.
The impact and role of UNVs
UN Volunteers are perceived by both government and community members as 'neutral', objective, highly skilled and capable of building essential relationships. They live and work in communities to enhance trust.
UN Volunteers are essential to the process of social mobilization, poverty reduction and decentralized local government – with community members, government officials and on a peer-to-peer basis, they liaise, facilitate, train, motivate, inspire and encourage their peers.
UN Volunteers in Kyrgyzstan are a catalyst for the emergence of other volunteers and acts of volunteerism within the community. By example and sharing of experiences, UN Volunteers encourage individuals to think and act for mutual benefit.
UN volunteers act as facilitators in the development processes in Kyrgyzstan under the Local Governance and Poverty Reduction Projects as well as programmes of other UN agencies.
Voices from local communities where UNV and UNDP work together
"We were in a state of shock after the collapse of the Soviet Union. No-one could understand what happened or what to do. We were in despair and waiting for people to come and fix things. We had no hope.
-Now we have hope for the future. We are involved in regular meetings and contributing to plans for making things better. We can work together to make changes.
There was no community – it was every person isolated in their own needs. What was left of irrigation pipes or abandoned materials, people would tear down or steal for selling or for their own use. It was like we were asleep.
-We now respect each other. We take time to know each others' needs. We realize that we can change things if we stick together. People have begun to re-build roads and bridges and irrigation canals together. Now we are awake – and clear about what we need to do.
We did not trust the government or any individuals within it. We did not believe their intentions and promises. Leaders were not to be trusted.
-We have recently started to elect our leaders. They are now accountable to us. If we don't like them we will get rid of them"
More on Volunteerism in Kyrgyzstan
The Government and legislative bodies are currently reviewing a Draft Law on Volunteerism for approval. This has been a close cooperation with the Ministry of Labor and Social Protection, UNV and young volunteers (law students) from League of Volunteers. Other INGOs and volunteer organizations have been taking part in the drafting process during the last 18 months.
In 2002, Ms. Maluda Tynaeva, NUNV, was awarded the Dank-medal from the President of Kyrgyzstan, Mr. Askar Akayev, for her outstanding contribution in poverty reduction. (UNDP/UNV Poverty Project)
The UNV Volunteer Information Centre, situated in the city centre of Bishkek, is promoting volunteerism by mobilizing young people to involve themselves in volunteer activities and form their own organizations. Young people are also volunteering and providing a wide range of services for various UN agencies. Ms. Tomoko Matsui, IUNV and fully funded by the Japanese Government is coordinating the centre and the focus is on realizing the MDGs on the grass-root level.
Projects in pipeline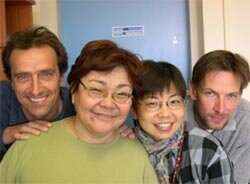 Youth Volunteer Project: A new UNV project has recently been approved. It is funded by Japanese Trust Funds USD 396,000. UNDP will co-fund with $50,000 .UNV HQ will also contribute with $53,000 to support capacity building of youth organisations in connection to this project. The youth project will focus on building the capacity of existing youth volunteers in all provinces of Kyrgyzstan. Youth Volunteer Centers will be created, based on the existing youth groups to further strengthen young peoples' work in local communities on issues identified by the young people and communities themselves with focus on realizing the MDGs through youth-driven activities in the communities.