# 245
February 18, 2005
In this issue:
---
UNITED NATIONS DEVELOPMENT PROGRAMME (UNDP)
Preventive Development Network Forum in Jalalabat: better coordination – less risks for conflicts
Fighting HIV/AIDS: Joint project in Kyrgyzstan is an example of best practices in the Central Asia
Military humor against AIDS
UNITED NATIONS CHILDREN'S FUND (UNICEF)
United Nations Children's Fund (UNICEF) and the Government of the Kyrgyz Republic signed the fourth Programme of Cooperation (2005-2010)
UNITED NATIONS POPULATION FUND (UNFPA)
Transfer of Medical Equipment to National Counterparts to Improve Reproductive Health Care in the Country
---
UNITED NATIONS DEVELOPMENT PROGRAMME (UNDP)
Preventive Development Network Forum in Jalalabat: better coordination – less risks for conflicts
On February 9, 2005 the UNDP Preventive Development Programme in partnership with the Jalalabat province administration organized a Network Forum, raising issues of conflict prevention.
"Each resident of the province should have equal opportunities for development, said Mr. Jusupbek Sharipov, Province Governor addressing the forum participants. Province administrations, executive agencies and local self government institutions should actively involve all ethnic groups into the decision making processes.
The forum aimed at establish a policy advice and conflict prevention cooperation platform along with province authorities, leaders of community-based organizations and NGOs, representatives of international organizations and local mass media taking an active role.
"Recently we finalized the research on the role of civil society organizations in conflict prevention, - told Bektemir Bagyshkulov, regional project coordinator, Foundation for Tolerance International in Aksy district. The research findings demonstrated high disunity of the civil society sector and its weak potential. Moreover, they are not ready for joint conflict prevention activities yet. Thus we consider this Forum to be the real platform for dialogue with civil society sector."
"We should apply the approaches of conflict prevention at an early stage of development planning at municipality, district and even whole province level, - said Mr. Sharap Jakypov, Akim of Suzak district.
Among the issues touched upon during the forum were the role of international organizations and local authorities in implementation of preventive development mechanisms, obstacles and progress towards activities implementation in the region and the way-out.
UNDP Preventive Development Programme personnel made a presentation on the outcomes of the recently held research in the province on problems of border crossing, impact of religious- extremist movements Hizb-ut Tahrir and Wahabism, increase in abaction, joint usage of resources in cross-border districts.
The forum resulted in the establishment of a Consultative Council, representing government, NGOs and international organizations.
The council's objectives are to consolidate the overall activities on conflict prevention, information sharing and organization of field forums and meetings directly in the districts.
For more information, please contact Mr Abdiraim Jorokulov, UNDP Programme Manager. Tel. in Bishkek: 0 (996 312) 61-12-13. Cell phone: (0502) 35 67 88. Also you are welcome to visit official website at www.pdp.undp.kg
Fighting HIV/AIDS: Joint project in Kyrgyzstan is an example of best practices in the Central Asia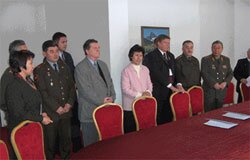 4th of February 2005 in the Pinara Hotel Vice Prime Minister of the Kyrgyz Republic Toktobubu Aitikeeva and UNAIDS Regional Coordinator a.i. Olavi Elo signed "Declaration of Partnership".
The signing of the Declaration was an additional prove of commitment of the Kyrgyz Government, UNAIDS and UNDP to fight HIV/AIDS among uniformed services.
Particularly the Declaration states: "We recognize the need to strengthen leadership for an effective response to HIV/AIDS at country level, and recognize that working with uniformed services will contribute greatly to moving ahead the national response to HIV/AIDS. We agree that we must act collectively to tackle HIV/AIDS among the uniformed services through a deepening of coordination, cooperation and partnership".
The signing took place in the framework of the joint project between the Government of the Kyrgyz Republic, UNAIDS and UNDP that is functioning since September 2004.
As Mr. Jerzy Skuratowicz, UNDP Resident Representative said a lot can be achieved through joint strategy, programming and implementation as only cooperation can bring to the expected impact of prevention.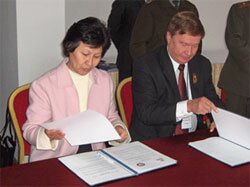 During the signing ceremony, UNAIDS Regional Coordinator in Central Asia Olavi Elo stated that the project is an example of best practices of HIV prevention among uniformed services in Central Asia. In other countries of the region, the focus is on one of the ministries primarily. In Kyrgyzstan an impressive cooperation of all uniformed services has been achieved through the project. Ministry of Defense, National Guards, Internal Troops under the Ministry of Interior and the Ministry itself, the Ministry of Emergency Situations and Ecology, the Department for Convoy of Convicted and Persons Detained under Ministry of Justice, National Security Service and the Border Management Services - 8 ministries and services are working jointly on HIV prevention in uniformed services of Kyrgyzstan.
Even though the Declaration was signed in February the joint project is functioning from September 2004 and a number of events have already been conducted. As Toktobubu Aitikeeva, Vice Prime Minister noted all conditions are provided and the project just has to keep working.
Military humor against AIDS.
On January 22 and February 11, 2005 humor contests designed to inform on ways of HIV/AIDS prevention among uniformed services took place in Bishkek.
First contest was conducted in the premises of headquarters of the special forces of Ministry of Internal Affairs of the Kyrgyz Republic. Four teams of different subdivisions of the Special Forces participated in the contest.
Another contest took place in the Bishkek at the Military High School. Four teams were formed from subdivisions of Ministry of Defense: cadets of higher military school, commandos from Tokmak, anti-aircraft missile brigades and a team from the Ministry of Ecology and Emergency Situations. Soldiers prepared well for the contests – thematic sketches were followed by dances in the national costumes, rap songs were followed by rhymes and by parody. There were also techniques of hand to hand fighting of commandos and "climbing of mountain slopes" by life savers from Ministry of Ecology and Emergency situations, poster competitions, dances, jokes...
Participants of the contest performed so funny that the laughter never stopped in the hall where no seat was left empty. Commanders, officers, soldiers, members of their families, friends of soldiers and even children from neighborhood were among the audience.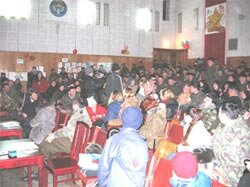 It was also important that teams were well prepared for the contests and knew very well issues related to HIV/AIDS. All contests were organized by armed forces themselves with assistance of joint UNAIDS/UNDP project "Development of AIDS prevention programme among uniformed services of the Kyrgyz Republic". The prizes were provided by the Global Fund.
The winners of the contest became teams from Tokmak subdivision of the Internal Army and Bishkek higher military school. They received prizes – tape recorders and soccer balls.
For additional information, please, contact Ekaterina Paniklova, Manager of the UNDP program on HIV/AIDS, or Ashir Chikeev, Program Communication Specialist (Tel: 62-04-49). Also, you can visit our site at: www.aids.undp.kg
UNITED NATIONS CHILDREN'S FUND (UNICEF)
United Nations Children's Fund (UNICEF) and the Government of the Kyrgyz Republic signed the fourth Programme of Cooperation (2005-2010)
On 4 January, 2004 in the Government House in the Kyrgyz Republic, UNICEF Resident Representative Mr. Richard Young and Vice Prime Minister Ms. Toktosh Aitikeeva have signed the Programme of Cooperation and Country Programme Action Plan for 2005-2010 between the Government of the Kyrgyz Republic and UNICEF. The Programme foresees special efforts to ensure that the most disadvantaged children and women have access to resources and quality social services, and are adequately protected by relevant policies to address their rights.
UNICEF commits to sustain a wide-ranging partnership and seek US$9,000,000 to support the central and local governments, non-governmental organizations and community-based organizations having responsibilities to achieve the Programme's overall goals: realization of the rights of every child and achievement of the Millennium Development Goals.
UNICEF will continue to address the immediate needs of children in the areas of health, nutrition and education, and emerging patterns of exclusion, discrimination and vulnerability. Most of the efforts will be concentrated in the poorest, most deprived regions of the Republic. At the same time, the new Programme aims to assist policymakers to formulate and implement legislative and administrative frameworks that will lead to public policies, strategies and actions to support child rights and an overall increase in investments for children. The Programme provides opportunities for poor communities, local governing bodies and young people to actively participate in decision-making processes.
By end of the Programme, special policy reforms and services are expected to be in place for:
protecting children who are deprived of parental care or whose rights are violated;

identifying and intervening in cases of child abuse and exploitation;

increasing responsibilities and strengthening capacities of those who must bear duties for ensuring children's rights;

applying the Convention on the Rights of the Child and international standards in juvenile justice;

providing quality care during pregnancy, delivery and postpartum periods, as well as neonatal and postnatal periods in selected rayons, especially for poor women;

providing quality care and treatment, including immunization and nutrition for children, with a focus on the most disadvantaged;

enrolling all children in the poorest regions in schools and ensuring their regular attendance through community management of education;

giving opportunities to young children in the poorest regions to benefit from early childhood development programmes; and

supporting adolescents to protect themselves from risky behaviours, leading to drug use and infections such as HIV/AIDS
The Programme and its expected results are formulated based on a comprehensive analysis of the situation of children and women in the Republic and commitments given by the Kyrgyz government at international and national forums. Of particular importance in this regard has been the National Conference on Child Poverty: Strategies Towards its Elimination held in Bishkek in December 2004. The Resolution agreed upon by the high level participants at the Conference provides strong backing and a clear action plan in support of UNICEF's efforts to address poverty among Kyrgyz children. "UNICEF intends to work as a close partner with government, civil society, international organizations and children themselves to really follow up on actions agreed at the Child Poverty Conference and quickly put in place conditions to ensure a brighter future for the children of Kyrgyzstan" said Richard Young.
For more information, please contact Ms. Galina Solodunova, UNICEF Communications Officer. Tel.: (996 312) 611 211(ex.139); 611 224. Email:
UNITED NATIONS POPULATION FUND (UNFPA)
Transfer of Medical Equipment to National Counterparts to Improve Reproductive Health Care in the Country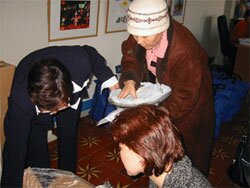 On 17 February 2005 the United Nations Population Fund (UNFPA) has transferred medical equipment, instruments and data processing equipment to the national counterparts involved into the past Country Programme implementation and will be main partners for the next UNFPA Country Programme cycle.
20 ZOI gynecological plasters, 35 midwifery kits have been transferred to the reproductive health care facilities, namely, to the Kyrgyz State Medical Institute of continuous retraining of medical personnel, its departments of obstetrics and gynecology and midwifes, as well as to the medical schools and reproductive health delivery points in the provinces.
In addition, for the first time in Kyrgyzstan UNFPA has provided the water leakage tester for semi-automatic testing of condoms, which has been transferred to the department of drugs and medical equipment of the Ministry of Health.
For additional information, please contact Ms. Gulnara Kadyrkulova, UNFPA National Programme Officer. Tel.: 61-12-02. Fax: 61-12-04. Email: