# 247
March 11, 2005
In this issue:
---
UNITED NATIONS DEVELOPMENT PROGRAMME (UNDP)
Conflict Prevention: Initiative of Women Peacemakers
HIV/AIDS prevention: NGO supports people living with virus
Uniting efforts in building national response of Kyrgyzstan to HIV epidemic
Another Issue of UNDP Magazine - "The Dialogue" – Published on March 2, 2005
UNITED NATIONS POPULATION FUND (UNFPA)
Message of Thoraya Ahmed Obaid, UNFPA Executive Director in occasion of International Women's Day, 8 March 2005
---
UNITED NATIONS DEVELOPMENT PROGRAMME (UNDP)
Conflict Prevention: Initiative of Women Peacemakers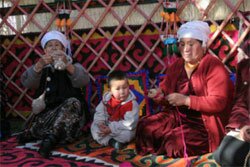 Women from cross border communities of two Ferghana Valley countries – Kyrgyzstan and Uzbekistan gathered in the city of Namangan (Uzbekistan) to discuss the problems, which prevent peace and harmony between the communities of these two countries.
The meeting was organized with the support of Swiss Agency for Development and Cooperation in the framework of the project on "Support and Cooperation for Development" (Jalalabad-Namangan) as well as the UNDP Preventive Development program.
Women entrepreneurs, representatives of local administrations and NGOs, craftswomen from Aksiya, Alabukin and Nooken areas of the Kyrgyz republic as well as Kasansay, Yangikurgan and Uchkurgan areas of Uzbekistan were invited to the meeting.
Incomplete list of the objectives motivating the meeting organizers include: development of cooperation and dialogue between the women-leaders of the cross-border districts; involving the public in the process of resolving the cross-border problems and development and submission of specific proposals to the state, international and other types of organizations and offices in Kyrgyzstan and Uzbekistan.
"This kind of meetings wakes the people up; it encourages new initiatives and changes for the better. I believe that is exactly what has happened today with our participants. I really liked the example brought by a woman from the Kyrgyz side, where she talked about the queen Alaya Kurmmanjan Datka, who has sacrificed the life of her son for peace and welfare of her nation", - said Tursunova Muborak, mediator of Uchkurgan district, Uzbekistan.
The authors of the publication "Gender Aspects of Conflict Prevention" published with the support of UNDP in Kyrgyzstan in 2004 think that in many countries of the world including the post-soviet space, there still is some gender asymmetry with regard to regulation of relationships. While women give preference to nonviolent and unarmed ways of conflict resolution, they have no authority or any chance to participate in decision-making processes concerning the problems, which are so much important for the whole society.
Therefore, Namangan meeting was a call for starting the process of improving this fault by developing and using the model of women participation in conflict prevention in practice.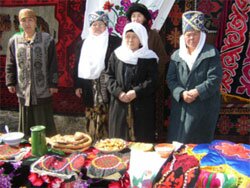 In the course of discussion, women underlined that women-leaders can contribute to strengthening of friendships between different nations and foster the solution of many cross-border community problems if their actions in both countries will be well planned and coordinated. Upbringing of children in the spirit of tolerance and respect to the culture and traditions of the sister nations can also play an important role.
"The words pronounced here not to remain just the words we have to continue meeting other women in our villages and explain to them that only by putting our effort together we can find solutions to numerous problems", - said at the meeting Salima Zhanazarova, Chairperson of Trade Unions of Alabukin district.
"We have got used to be dependent on the government decisions , but now, time has come to take measures by ourselves and stir up initiatives together", - she said.
At the end of the meeting, women-peacemakers received gifts and flowers on the occasion of the International Women's Day, which is still widely celebrated in the post-soviet countries. In edition, the meeting participants were invited to a specially organized exhibition of folk art collection and a festive concert.
For additional information please contact Abdraim Jorokulov, UNDP Preventive Development Program Manager. Tel: 996 (312) 61-12-13. Fax: 0 996 (312) 61-12-17. E-mail: You can visit our website www.undp.kg, where you will find a link to the Preventive Development Program.
AIDS-service NGOs: To Support People Living With HIV/AIDS
"You are almost dead. You will live maximum two years." That's what heard a young man together with his positive results for HIV. Shocked young man plunged into suicidal non stop consumption of injecting drugs for six months.
Now this person feels much better, after joining self help group "Revival+".
However it was a long process. One of the difficulties was that this person lived in a rural area, where it is hard to get access to services. Volunteers of the group paid many visits consulting him, trying to bring him back to normal life. Later, he started traveling to Bishkek to go through the process of rehabilitation.
Now he found a permanent job and he was able to prove wrong these dreadful predictions with the help of the group. The self help group is functioning in Bishkek for already one year. During this period the group witnessed many similar stories of people who overcame drug dependency and moreover pressure of government officials and the society.
Mainly because there is a place, where any person living with HIV or hepatitis can freely share own experience and problems. The doors of the group are always open for people living with HIV/AIDS, however in the group there are many injecting drug users.
Sherboto Tokombaev, director of Ranar NGO, initiator of the self help group, told more about the group – "We teach based on our own experience but not by books and manuals. That's why we trust each other. Sometimes we have hot discussions, but there is no place for personal conflicts and criticism. We value and respect each other. For all of us, personal victories of our members are most precious".
The "Revival+" reflects understanding and tolerance coming from the group members. Obviously members of the group are not allowed to bring drugs. However if it happens so that a person took drugs during the day, he or she can still come and get help.
UNDP (in the framework of HIV/AIDS prevention programme) supports NGO "Ranar" since 2003. During this period several projects were implemented, directed to advocate rights of injecting drug users and people living with HIV/AIDS.
"In order to build an effective national response we all shall work together, says Jerzy Skuratowicz, UNDP Resident Representative at the 1st Central Asian Regional Conference of AIDS-service NGOs last November 2004 in Bishkek.
"AIDS-service NGOs are at the frontline of battle with HIV spread and are those who carry the burden of providing care and support for people living with HIV/AIDS. UNDP has been working with the AIDS-service NGOs since 1997 and is going to continue this cooperation in the coming years as well, he said.
"Ranar" activists were able to support PLWHA in the colony #47 and create groups of self help there. Other vital projects being carried out with support of UNDP HIV/AIDS Programme are advocacy of rights of PLWHA and "Life Line" project on social assistance to people living with HIV/AIDS in joint cooperation with the Ministry of Labor and Social Protection.
"No wonder why in our country there are only two persons who disclosed their HIV status. Our society is still not ready to change attitude towards people living with HIV/AIDS. In our country such people are being condemned, says Sherboto Tokombaev, therefore our group is still necessary for those who continue to struggle with so many problems in their lives."
For additional information, please contact Ekaterina Paniklova, Manager of the UNDP program on HIV/AIDS, or Ashir Chikeev, Program Communication Specialist (Tel: 62-04-49). Also, you can visit our site at: www.aids.undp.kg
Coordination Efforts in Building National Response of Kyrgyzstan to HIV epidemic
One coordinating body, one monitoring and evaluation system, one policy framework – this were the main topics discussed at the series of meetings conducted by the Prime Minister's Office of Kyrgyz Republic with the state, international and civil society organizations in the beginning of March, 2005. Vivid and serious discussions brought to one common consensus of uniting efforts in building national response of Kyrgyzstan to HIV epidemic.
Since 1997 the Kyrgyz Republic has Republican Multisectoral Coordinating Committee on AIDS. In 2004 the Government made a decision to strengthen the national response and establish a coordinating unit under the Prime Minister Office with support of UNDP. The role of the sector is to coordinate activities in HIV/AIDS area, monitor and evaluate the State Programme implementation and will act as the Secretariat of the Republican Committee. The Committee will be restructured and will include one more sector on grants of Global Fund to fight AIDS/TB/Malaria.
The gap existing today in the country is the absence of coordination in HIV/AIDS area. With the coming support from the regional projects of the World Bank, USAID, DFID, as well as projects at national level of KfW and Global Fund, the need for efficient and strengthened coordination appears. The coordinating unit under the Prime Minister Office is certainly timely and shall act effectively, noted Aitbubu Aitikeeva, Vice Prime Minister, Chair of Republican Multisectoral Committee on AIDS. The meetings conducted by the coordinating unit facilitated the creation of dialogue and cooperation between state and international and civil society organizations.
For additional information, please, contact Ekaterina Paniklova, Manager of the UNDP program on HIV/AIDS, or Ashir Chikeev, Program Communication Specialist (Tel: 62-04-49). Also, you can visit our site at: www.aids.undp.kg
New Issue of "The Dialogue" UNDP Periodic Magazine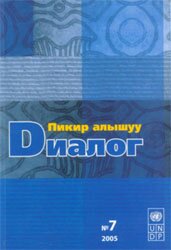 A week ago issued magazine is fully devoted to the questions of national governance and includes a selection of interesting interviews, analytical materials, surveys and articles touching upon such spheres as good governance and government effectiveness as well as incorporation of effective models of governance structure optimization, development of democratic institutes, information-communication technologies for governance, human rights and gender equality.
Among the authors of these articles are the executive staff of the state ministries and other government offices, national and international experts, parliament members, UNDP National Governance Program staff and journalists.
"Good governance serves people, not the other way round", - that is how Mr. Jerzy Skuratowicz, UNDP Resident Representative, starts his interview, which opens the magazine. Interview with Mr. Asylbek Bolotbaev, Deputy Director of the Agency of State Services of the Kyrgyz Republic, centers upon such topical questions as prestige of state services, legal background for State Service Reform, staff turnover and fight against corruption.
Incomplete list of the topics discussed in the magazine includes the articles on the purpose of conducting functional analysis of the government bodies and its effects on public institutions, transparency-raising-role of information-communication technologies in governance systems, experiences of boosting parliament's effectiveness worldwide and others.
Published in two languages – Russian and Kyrgyz, with the circulation of two thousand copies, this magazine will be widely spread across the country. In addition, electronic version of the magazine will be placed on the UNDP website at the following address: www.undp.kg
For additional information please contact Alexander Kashkarev, Programme Analyst: Tel. 61-12-13; E-mail: , or Olga Grebennikova, PRIM Officer: Tel. 61-12-13; E-mail:
UNITED NATIONS POPULATION FUND (UNFPA)
International Women's Day, 8 March 2005. Message of Thoraya Ahmed Obaid, UNFPA Executive Director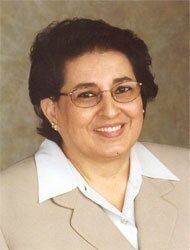 As world leaders and women's organizations gather in New York for the 10-year review of the Fourth World Conference on Women held in Beijing, it is clear that governments in all regions have made substantial progress in adopting legislation and policies to protect women's human rights. In the last decade, legal and policy frameworks for gender equality have been strengthened. Today's challenge is to reinforce the laws, which have been already passed and transform the existing policies into concrete programs that benefit women and girls.
Subject of this year's International Women's Day – Gender Equality after 2005: Build Safer Future – acknowledges the importance of enhancing protection of women's rights and ensuring their full participation in decision-making for peace, development and equality. A lot remains to be done. Today, only 15 countries have reached the target of 30 per cent women representation in parliaments. High level of gender-based violence in conflict zones, growth of women and children trafficking, high level of maternal mortality, increased HIV infection among women and girls and persistence of pernicious traditional practices point to the need of ensuring higher level of awareness and collective action.
Since traditions and practices are usually stronger than laws, every effort should be made to empower women, foster community participation, involve men and use culturally sensitive approaches. Today, I call on all the leaders to ask questions and start debates on whether or not the practices discriminating women and girls contribute to the welfare of individuals, families and communities. There is a growing body of evidence, which shows that providing equal access to education and health services, income-earning opportunities and legal rights benefits not only women, but all the members of society. It unleashes the full potential of half the human race to contribute to greater social and economic progress for all.
As the world leaders agreed at the International Conference on Population and Development in Cairo and at the Fourth World Conference on Women in Beijing, reproductive health and reproductive rights are the issues of primary importance. All individuals have the right to reproductive health; they have right to determine and be responsible for the number, timing and birth interval of their children; they have the right to have access to information and means for realizing their rights and to make their free-will decisions concerning reproductive health without discrimination and violence. Reproductive health and reproductive rights are key elements for women's empowerment, gender equality and achievement of international development goals. Reproductive health services save many lives by preventing unwanted pregnancies and abortions, HIV infection and maternal, infant and child mortality.
Today, celebrating the International Women's Day, I urge governments and the international community to revise and reinforce their commitment to the Beijing Platform for Action to support their work in poverty reduction and achievement of the Millennium Development Goals. Let us assert once again that each woman and girl is a unique and valuable human being entitled to equal opportunities and universally adopted human rights, no matter where she is born or where she lives. Time has come to strengthen our endeavors for including the gender equality issues in the agenda of international peace and development work.
For additional information, please contact Ms. Gulnara Kadyrkulova, UNFPA National Programme Officer. Tel.: 61-12-02. Fax: 61-12-04. Email: