# 254
July 08, 2005
In this issue:
---
More Assistance Needed in Flooded South
UNITED NATIONS DEVELOPMENT PROGRAMME (UNDP)
UNDP Urges Free, Fair Election in Kyrgyzstan Sunday, Calls Vote Critical for All of Central Asia
Conference to discuss Debt for Sustainable Development swap at the UN House in Bishkek
Three Global Ecological conventions: National Capacity in realization assessed in Kyrgyzstan
"Oxford Street. Bridges between People"
---
KYRGYZSTAN: More Assistance Needed in Flooded South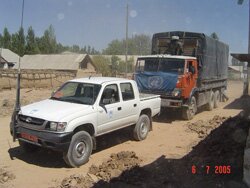 OSH, 7 July (IRIN) - United Nations agencies, including the UN Development Programme (UNDP), the UN Children's Fund (UNICEF), office of the UN High Commissioner for Refugees (UNHCR) and the UN Population Fund (UNFPA) have been providing relief to local residents in the southern Kyrgyzstan district of Nookat affected by recent mudflows. The district is about 60 km southwest of the provincial capital, Osh.
The government has requested that urgent aid be sent to the Nookat district, including blankets, bedding, tents, diesel, fuel, medicine and food to meet its immediate needs after flooding and mudflows destroyed houses, bridges and highways, the UN Office for the Coordination of Humanitarian Affairs (OCHA) said.
On Thursday, local people could be seen unloading humanitarian supplies in Nookat including food, tents, cooking implements and mattresses. Gapar Osmonov, the local civil defence bureau head, said that more than 100 families in the area had been affected by the recent natural disasters, including 85 families who were hit by the recent flooding.
"The district lacks resources and the aid provided by the UN agencies to the 35 most vulnerable families is in the nick of time," said the official.
Almost 80 villages in the district were affected by floods in mid-June caused by unusually heavy rains. More than 3,500 buildings in the area were damaged and dozens of bridges and parts of roads have been completely destroyed. The total cost of the damage is estimated to be around US $3 million.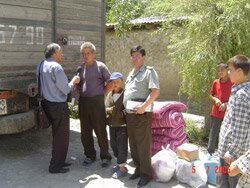 According to the Kyrgyz emergency ministry, more than 100 landslides, mudflows and localised floods have hit the south of the country over the past few months. In addition to the emergency in Nookat district, the Bazarkorgon, Suzak and Nooken districts of Jalal-Abad province further north, have been the badly affected areas. Some 560 families had to be resettled from the disaster risk areas.
Crops in Jalal-Abad and Osh provinces have been damaged as a result of the lastest floods. Floods and landslides have already caused damage to crops in the provinces of Chuy, Batken and Osh,in April and May 2005. In all, 2,885 hectares of crops including wheat, cotton, sugar beet, corn, vegetables, tobacco and oil-bearing crops have been completely destroyed. As a consequence of the accumulated damage caused by natural disasters in 2005, Bishkek predicts a shortage of approximately 9,800 mt of wheat.
The Central Asian region is prone to natural disasters, including earthquakes, landslides, floods, avalanches and drought. According to the European Commission Humanitarian Aid Office (ECHO), natural disasters have killed about 2,500 people and affected some 5.5 million, almost 10 percent of the total population in the region, over the past decade.
UNITED NATIONS DEVELOPMENT PROGRAMME (UNDP)
UNDP Urges Free, Fair Election in Kyrgyzstan Sunday, Calls Vote Critical for All of Central Asia
BISHKEK, Kyrgyzstan, 8 July 2005—United Nations officials today expressed hopes for a free, fair and transparent election in Kyrgyzstan this Sunday, emphasizing the importance of peaceful democratic transition not just for Kyrgyzstan, but for all of Central Asia.
The presidential elections of 10 July were organized in just three months, following the resignation of former President Akaev in April.
"Kyrgyzstan is at a turning point," said Jerzy Skuratowicz, the UN Resident Coordinator in Kyrgyzstan. "There is an urgent need to bring stability to the country and to strengthen national institutions through free and fair elections. We are gratified that the campaign has been conducted peacefully and in a spirit of constructive democratic debate, and we call on all candidates and parties to ensure that the election takes place in a similarly peaceful atmosphere and in strict adherence to the rule of law."
In partnership with others in the international community, UNDP has provided support to help Kyrgyzstan meet international standards for free and fair elections, including extensive voter education efforts through the national media. UN officials in Bishkek are heartened by the large number of national and international election observers who have volunteered to monitor the balloting Sunday, in what is expected to be the fairest and most competitive election in the country's history.
If successful, Sunday's election will have positive repercussions throughout Central Asia, a region of intertwined cultures and countries with a shared stake in regional economic development and in peaceful, stable political evolution, UNDP officials said.
"A successful election in Kyrgyzstan will contribute greatly to political stability throughout the region, which is essential for Central Asia's long-term development," said Kalman Mizsei, UN Assistant Secretary General and Director of UNDP's Bureau for Europe and the Commonwealth of Independent States (CIS). "Central Asia will flourish only if countries of the region co-operate with one another and encourage the free movement of people, of goods, and of knowledge among themselves, with their neighbors, and with the rest of the world. "
Central Asia – Kazakhstan, Kyrgyz Republic, Tajikistan, Turkmenistan and Uzbekistan – is home to almost 60 million people. The land-locked countries of this region are the focus of intense international attention because of their geopolitical importance and economic potential, and because of their currently unsettled political situation. Recent outbreaks of violence in Uzbekistan and Kyrgyzstan have underscored the danger that political instability could undermine progress towards development and poverty alleviation, UNDP officials stressed.
For further information, including interviews with Jerzy Skuratowicz or Kalman Mizsei please contact Olga Grebennikova (Bishkek) at tel: 996-312-611-213 or 996-502-512-299 or Gulden Turkoz-Cosslett (NY) at 212-906-5761 or 914-907-8816.
Conference to discuss debt for sustainable development swap at the UN House in Bishkek
What should legal and regulative mechanisms of debt swaps for sustainable development be and how should the trust fund established for these goals work? These and other issues were discussed in the framework of the conference held on June 30, 2005 in the UN House, Bishkek.
Representatives of the international organizations, Kyrgyz parliament and Government, ministries and institutions of the Kyrgyz Republic, mass media, NGOs, National experts and UNDP project consultants gathered at the round table to discuss primary tasks of partial implementation of "debt swaps for sustainable development" scheme and creation of a trust fund, aimed at execution of one of the most function in the process in Kyrgyzstan.
"External debt is one of the most important problems that disrupt the process of development in Kyrgyzstan", said Jerzy Skuratowicz, UNDP Resident Representative, in his speech. The implementation of debt swaps for sustainable development mechanisms would open new opportunities for solving the problems in the sphere of ecology and other vitally important issues.
The debt swap mechanism is not new and a number of developing countries already successfully works and implement on practice agreements with countries-creditors that promote the poverty reduction and decreasing loan dependence of countries-debtors and also increasing an attraction of foreign investments to their economics.
"The huge external debt is a heavy heritage that the previous Government left", said Daniyar Usenov, interim Vice-prime-minister of the Kyrgyz Republic. "Today the issue of external debt is the issue of keeping the sovereignty and country integrity for the sake of its development".
Presentation of the UNDP international expert Leida Mercado who visits Kyrgyzstan twice with the aim of developing external debt swap mechanism took a key place in the discussion.
A complicated debt swap mechanism includes a complex analysis of the country's debt structure, assessment of fiscal potential for dept swap service, analysis of institutional outlays programme governance capacities, legal and regulative aspects and strategies, options of bilateral negotiations, and possible project analysis. Co-financing can be fulfilled through this mechanism and a lot of other important steps.
This allows implementing the line of programmes aimed at achievement of sustainable development and provides trust from the side of donors and creditors that will also promote progress conversion operations with external debt.
The international expert presents to the participants of discussion scheme, providing transparent draft of funds under solving of social and ecological problems.
The event was held within the "New mechanisms of resource mobilization in the area of environment for sustainable development" component and UNDP "Capacity Building and Environmental Governance Strengthening for Sustainable Development" project. Suggestions and recommendations proposed during the discussion will be summarized by project experts and handed over to the KR Government.
For additional information please contact Zharas Takenov, UNDP International Senior Programme Officer. Tel. 61-12-13; e-mail:
Three Global Ecological conventions: National Capacity in realization assessed in Kyrgyzstan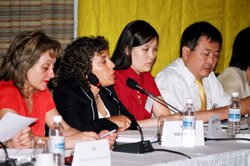 Strategy and Action Plan for national capacity building to implement three global ecological conventions were discussed on July 6, 2005 in Bishkek.
Representatives of the Offices of the President and Prime Minister, ministries, state institutions and mass media, deputies of Kyrgyz parliament, leaders of NGOs working in the field of environment, national experts and UNDP specialists gathered at the round table to discuss measures on capacity building for implementation of global ecological conventions: the United Nations Convention on biological diversity, the United Nations Convention to combat desertification and the United Nations Framework Convention on climate change and propose recommendations at the final stages of strategic documents.
"Assessment of capacity, week sides and available opportunities and compare the commitments that Kyrgyzstan has undertaken by signing ecological conventions is the complicated work requiring a lot of time and efforts", said Ms. Sezin Sinanoglu, UNDP Deputy Resident Representative. "But this is the only way that can lead the country to practical implementation of the undertaken commitments", she said.
The document presented to participants is a result of scrupulous work of specialists and partners of the GEF/UNDP "National capacity self-assessment for Global environment management in Kyrgyzstan" project. Sociological survey, cross-cutting analysis both in the capital and in the regions indicated the main problems and barriers for implementation of the global ecological conventions and allowed to develop an Action Plan aimed at solving of these problems.
"Everything we did during two years together with our partners is this format that helps us to evaluate national capacity on any convention", said Ms. Mira Djangaracheva, the project manager. Unfortunately, there was no practice of discussions the benefits from conventions' ratifications with specialists, NGOs and representatives of private sector in the country before. That's why we had to raise all inveterate problems and find the way and opportunities of implementating our obligations".
Suggestions and recommendations proposed within the round table will be summarized and taken in consideration at the final stage on preparation of Strategy and Action Plan to publishing and distribution.
Note: GEF/UNDP "National capacity self-assessment for Global environment management in Kyrgyzstan" project has been implemented in Kyrgyzstan since January, 2004 on the basis of Agreement signed between the KR Government and GEF/UNDP on September 19, 2003. The executive agency is the Ministry of ecology and emergencies of the KR.
The main goal of the project is studying the internal capacity and identification of priorities and needs on fulfillment of commitments undertaken by Kyrgyzstan in the framework of three UN conventions.
For additional information please contact Aigul Bolotova, NCSA project information and PR manager. Tel. 545073, 549273; e-mail:
"Oxford Street. Bridges between People"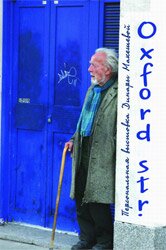 Photo exhibition to promote MDGs opened under UNDP auspices in Bishkek on 6 July 2005.
Made by talented Kyrgyz photo journalist Dinara Makesheva in London, photos exhibited in the Kyrgyz Fine Art Museum reflect emotions, imaginations, and concerns of ordinary people living in a megapolis.
"This exhibition brought scenes of life from such a huge city as London to help Kyrgyz people especially the youth to understand better the differences and common ties of people of developed and transition countries, to see common wishes and desires as well as bridges linking people on this planet," said Jerzy Skuratowicz, UNDP Resident Representative at the opening the exhibition.
Bearing in mind that art and culture are reducing distance between the people, the UNDP Office in Kyrgyzstan has undertaken an extensive public awareness campaign on the MDGs involving all strata of Kyrgyz society.
Started with the National launch of the MDG Progress Report in cooperation with Kyrgyz actors, musicians, famous singers and dancers in 2003, and continued in 2004 with MDG Student Festival in Bishkek and three provinces of Kyrgyzstan, the Millennium Development Goals promotion campaign helps to bring development values to ordinary people, especially the youth, in the country and include them into the process to achieve the MDGs.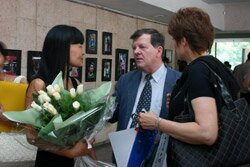 "I wanted to tell too much and tried to show you what I saw through my photo camera in London. Now is your turn to share your vision and imagination", said Dinara Makesheva, addressing to her friends and colleagues, media, politicians, diplomats and students came to the Museum. "I believe people on this planet have much more commons than differences and what we all desire is peace, security and development", she said.
Dinara Makesheva belongs to a generation of talented and innovative artists using photo camera to watch 'secrets of the world'. For a long time she has been successfully cooperating with the Institute for War and Peace Reporting and other media offices in Bishkek as well as with Associated Press, NATO, BBC Kyrgyz Service in London and other international agencies. In May 2005, a personal photo exhibition of Dinara "The March Revolution in Kyrgyzstan" was successfully shown in London.
For more information, please contact Olga Grebennikova, UNDP Public Affairs Officer. Phone: 996 – 312 – 611-213, mobile 996-502-512-299. Email: